The Seville Communion
by Arturo Pérez-Reverte



If you have some spare time, this is a delightful and pleasant reading. The book will slowly introduce you to the splendor of Seville and it will make you eager to go and visit all the places that are masterly described by well known Spanish author Arturo Pérez-Reverte.

...Want to hear more?...



Mysterious, deadly conflicts between history and modernity drive this recent literate thriller: It is an engaging tale of love, greed, faith, betrayal and murder set in contemporary Seville.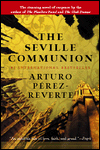 "In Spain, in Seville, there is a place where merchants are threatening the house of God and where a small seventeenth-century church [: Our Lady of the Tears], neglected by the power of the Church and the lay authorities, kills to defend itself.&nbsp" When a hacker known only as Vespers cracks the Vatican firewall and leaves this inflammatory message on the pope's personal computer, Father Lorenzo Quart - a worldly and enormously attractive emissary of the Holy See's Institute of External Affairs - is swiftly dispatched to investigate. Once in Spain, Quart soon finds himself caught between the powerful developers who have a stake in the Baroque ruin, an Andalusian beauty, and his loyalty to the Vatican and his own vows.
Father Quart's search for Vespers leads him to Father Priamo Ferro, the coarse and zealous parish priest, who has the full devotion of his small flock; Sister Gris Marsala, a former nun from California who is determined to restore the church; Pencho Gavira, the ambitious young vice-chairman of the Cartujano Bank; his estranged wife, Macarena, a perfect Andalusian beauty whose aristocratic family is closely linked to the church's history; Macarena's mother, the Duchess of El Nuevo Extremo, an elegant insomniac with a taste for Coca-Cola; and Honorato Bonafe, a tabloid reporter bent on getting the dirt on everyone.
Father Quart keeps encountering suspicious people, any of whom might be Vespers, as the body count rises and as ingeniously juxtaposed plots and counterplots twist toward a climax that puts Quart at the amorous mercy of the seductive Macarena and sees Father Ferro arrested for a murder to which he has perhaps falsely confessed. The identity of Vespers, and a stunning disclosure about Father Ferro saved for the very last sentence, bring this literate whodunit to a deliciously satisfying conclusion.